Project Education Information
We want to facilitate sharing this project with as many schools and public learning facilities as possible. You are welcome to use all of our resources to help support your teaching and sharing of maritime heritage.
By working with schools in Poole and Bournemouth's Cultural Hub as well as other schools, we have shared the heritage of the project to over 2, 000 children and offered opportunities to creatively get involved in interpreting and exploring heritage information. School children's contribution has been with inclusion of their work, through drawings, discussion, poetry writing, performances in school, museum and boat visits and a final exhibition. Also ongoing legacy of the project with this resource pack and documentation of all the progress of the project and final outcomes which are available on the Valise Noire website.
Sharing Heritage
CARGO is a great opportunity to share heritage with audiences who may only be naturally interested in the annual boat show which attracts thousands of people for commerce, so this will be a great opportunity to communicate our history within this unique event for Poole.
The project interprets the past in inspirational and interactive ways and will enable local people and visitors to engage in these rich heritage resources. CARGO will bring Poole's maritime heritage out of the archives and deliver it to a wider general public. It will also add to the building of the archives in partnership with Poole Museum and Dorset History Centre which are accessible to the public. Thousands will experience our maritime heritage through live storytelling performances: illustrations, poetry and images, all inspired by ships logs and sea faring journeys. This project will be available online as a lasting legacy.
Welcome Valise Noire Storytelling Theatre's CARGO Education Pack.
We have had a lot of fun researching, making and performing CARGO and performed worked with Dorset schools.
People made beautiful letters and Scrimshaw inspired art work
Volunteer performers rehearsed and performed CARGO at two events as part of the Poole Maritime Festival (that included the European Maritime Day) in May 2017
The CARGO Exhibition at Lighthouse Poole, from 25th May, presented an ongoing visual and audio interaction with the project for a month following the site specific performances.
This Education Pack is just one way that we can make sure that CARGO has a legacy for generations to come to celebrate the 'Great Quay of Poole' in years to come.
Cargo is very special - it allows us to share goods from other lands.
Cargo is very valuable - it costs money to bring cargo into Poole and transport worldwide. The products can also come in big qualtities, this is called wholesale.
Cargo is essential - the United Kingdom is an island and can only produce so much that we all need to live.
Maps and Charts are valuable - they record all kinds of information for us to learn from and to navigate our way around the world on journeys.
Water is very special - if we do not look after it and Poole Quay silts up we cannot get big ships into it.
History is very important - through stories, evidence and archives we can learn about people,places and events of the past.
Poole is very special - it has always been home to lots of different animals, birds, fishes, minerals, plants and people. It is possibly the second largest known natural harbour in the whole world.
Why is Water Important?
You can go on/in it - swim/ sail/ kayak/ boats/ ships
It hides things - Wrecks/ Channels/ Shells/ Rubbish
It enables travelling by boat and transportation of cargo
It provides things - food/ power/ water as a force / clean with it
It needs looking after because it is so important for life
The Ship
For the performances of CARGO at the Poole Maritime Festival in May 2017 Valise Noire Storytelling Theatre Company worked with the crew of the Training Ship 'Queen Galadriel' - "A Voyage of Discovery for Young People".
It was originally named 'Else' after the Captain's daughter. Queen Galadriel traded as a cargo vessel around the coasts of Denmark and Norway, initially as a motor sailor but after 1956 under motor alone. By 1970, the need for such vessels as Else had ceased and her future became uncertain.
In 1983, bought by The Cirdan Sailing Trust and went into service renamed 'Queen Galadriel' after a character in JR Tolkein's book 'Lord of The Rings'.
The Cirdan Sailing Trust specialises in enabling groups of young people, particularly those who are disadvantaged in some way, to experience the challenge and adventure of life at sea on large sailing vessels. We also run voyages suitable for Duke of Edinburgh Gold residential's, adult and individual charters.
Facts: The Queen Galadriel is a Baltic Trader. It is 32.9 metres long. It's beam is 6.6 metres. It was built in 1937 in Svenborg, Denmark.
Goods as Cargo
Prices of fish-20 shillings per quintal at the outports, 32s at St.John's and 42 shillings per quintal in Portugal.
30,000$ in gold for 3,000 quintal cargo
1765 George Milner entered at the custom house 7cwt of Whale fins on the 'Diligance' obtained by barter from York harbour in gulph of St. Lawrence by native Indians
Irish ports- Youghall, Limerick, Waterford
Isaac Lesters 'Illustrious Bee'
(Town House book list of arrivals/departures 1793/4)
What is bartering?
Look up how people used to trade by swapping goods rather than exchanging money for it. USEFUL LINK HERE
People as Cargo
Romans
Pilgrims
From: Jacobean Pilgrims From England to St. James of Compostela From the Early Twelfth to the late Fifteenth Century.
Date 1401 Henry Pay Ship Mary of Poole Pilgrims Allowed 80
Numerous English pilgrims of this century used the direct sea route to Galicia and in most years there were licensed sailings from south and east-coast ports, and most favoured were Holy or Jubilee Years of which three in particular 1428, 1434 and 1445 had the heaviest traffic.
The asking of a favour or seeking of a cure have always been motives for pilgrimage and many cures and miracles were attributed to the intervention of St James. Petitions were not always personal, but might be presented from or on behalf of a whole town or city. For example to ask St James to lift the plague from their city.
What would you want to ask for on behalf of your Town?
What would you be able to take with you on a long journey at Sea?
Find on a map where Santiago de Compostela is? Where is the nearest Port?
Slaves
A few Poole merchants undoubtedly carried slaves on voyages. In 1722, the Barfoot brothers made a voyage to Barbados where they took on board 90 gallons of rum and 24 slaves for transport to Charleston.
In the 1750s they sent three ships over two years to Bence Island in what is now Sierra Leone where Scottish merchant Richard Oswald ran a slave trading post. The Barfoot ships brought building materials for the trading post and then took on slaves for their voyage to Charleston. In the mid 18th century Charleston was a busy port trading in produce from local plantations such as rice, indigo, cotton and tobacco, all crops worked by slaves who were consequently in great demand. By 1770 the city was fourth largest port in the colonies after Boston, New York and Philadelphia, with a population of 11,000, over half of them slaves. William Barfoot's success in these and other ventures allowed him to acquire the most magnificent house in the High Street (only half of which is visible today because of later building).
The Jolliffes were another Poole merchant family who traded with the American colonies. In 1721 at the age of 23, William Jolliffe had sailed his own ship Jolliffe's Adventure to Carolina and in following years the family continued to trade regularly with the colony. Their rising prosperity enabled them to build a fine mansion around 1730 in West Street. Between 1751 and 1760, Jolliffe ships made nine slave voyages from Bence Island to Charleston. In 1759, for instance, a Jolliffe ship sailing for Africa was reported to contain chests of Arrangoes (normally beads of Cornelian, in this case said to be glass imitations).
In 1760 the Molly owned by William Jolliffe was preparing to sail to Africa carrying: 30 Barrels of gunpowder, 50 Niccannees (lengths of cotton) and 3 Bandanoes (lengths of silk or cotton handkerchiefs). These were all goods regularly traded for slaves.
Poole-based historian Jenny Oliver has written a really good Blog on the Slave Trade and traders from Poole's involvement: USEFUL LINK HERE
"In his 1788 history of Poole, Joseph Moore summed up the town's involvement: 'About 30 years ago, some attempts were made by adventurers from this port, to establish a trade to the coast of Africa, and several voyages were undertaken, and the returns made in slaves, which were carried to the West Indies and Carolina, but the hand of Providence interposed, and put an end to a traffick so repugnant to the dictates of humanity, and to the principles of true religion.'
In 1748, for instance he mentioned the arrival of the Snow Jenny (master, William Reed) and the Nancy (master, Thomas Courtin), both from Poole.
In June 1755, the brigantine John and Betsey left Charleston bound for Poole. Many of these vessels would be bringing Salt Cod from Newfoundland and taking on cargoes of rice, indigo or other local produce, but a few brought slaves.
In August 1755, Laurens noted: 'Here is now one of the Gambia vessels arriv'd, the Elizabeth of Poole, Capt Hunt who brings only 112 or 15 slaves. She went for 170 but could not purchase the whole'. The Elizabeth had prospects of selling her cargo at a good profit as according to Laurens, 'the Indigo Planters whose crops are good just now [are] at their wits end for more Slaves.' Other references show that the vessel was quite a regular visitor to Charleston carrying slaves".
'Captured'
Read the story of the capture of the Ship 'Thomas' of Poole, in 1746. It was loaded with Pitch and Tar and the name of the Captain was Captain Parsons. The Thomas had 200 men on board and 22 mounted Carriage Guns.The Thomas was captured by a French Privateer Ship off of Land's End, in Cornwall. One English Sailor was left on board and four French Sailors were left with him to take the ship back to France. The weather got bad and they could not get into port in France. Near the port of Boulogne the French sailors all lay down to sleep and the English Sailor took the ship to Dover Pier where it was re-captured.
Poem
Poly-Olbion by Michael Drayton 1622 (Shakespeare's Friend)
Whilst Piddle and the Frome each other entertained,
Oft praising lovely Poole, their best beloved bay,
Thus Piddle her bespake to passe the time away -
"When Poole" quoth she 'was young, a lustie sea-born lass,
Great Albyon to this nymph and earnest sutor was,
And bare himself so well and so in favour came
That so in little time upon this lovelie dame
Begot three mayden isles, his darlings and delight;
The eldest Brunkesey called, the second Fursey hight
The youngest and the last, the lesser than the other
St Hellen's name doth beare, the dilling (darling) of her mother.
And for the goodie Poole was one of Thetis traine
Who scorned a nymph of hers her virgin band should staine
Great Albyon (that forethouht the angrie goddesse would
Both on the dam and bratts take what revenge she could)
In the bosome of the Poole his little children plact;
First Brankesey, Fursey next and little Hellen last;
Then with his mighty arms doth clip the Poole about
To keep the angrie queen, fair Amphritrite out,
Against whose lordlie might she musters up her waves,
And strongly thence repulst (with madness) scould and raves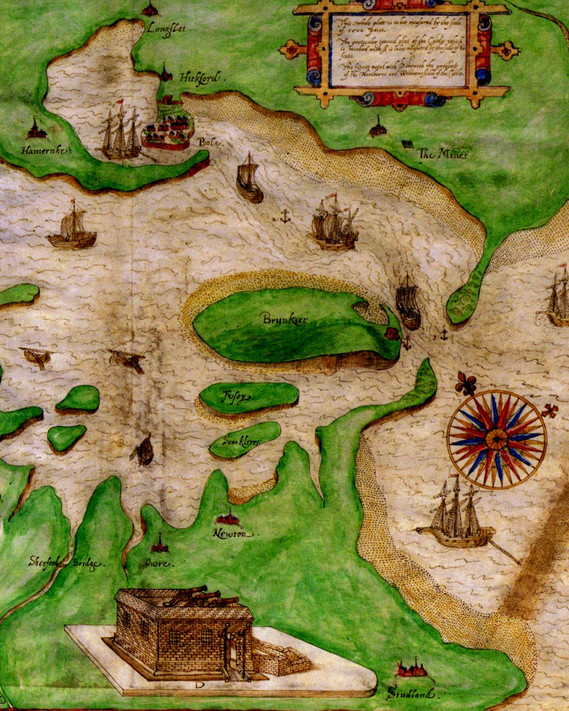 Sea Monsters
As people started discovering the seas and oceans they saw lots of new types of animals they had never seen before and started to draw them into their maps - they thought they were sea monsters.
The flying Turtle was very popular and was actually a branding trademark but many illustrators copied it as a sea monster to make the maps look more interesting.
Images: Sea Monsters on Medieval and Renaissance Maps - Chet Van Duzer and maps courtesy of Dorchester History Centre
Ship Names
Ships that came through Poole
James Manlaws 6th November 1837
Faith Samauel Slade 1838
Perserverence John Willet 30th October 1838
Glide 29th February 1840

Anna 4th July 1842 James and Robert Slade
Cousins Samuel Slade deceased - Thomas Slade 17th August 1842
King George
Duke of Glouster 1844
Lord Neson 29th Feb 1848
Dove, Jo, Holly, Caroline, Freedom, Flora, Psyche, Findon, Experiment, Thomas and Dorothy, Heroine, Sisters, Hope, Fly, Exeter, Swallow
Pearl, Foam, Secret, Velocity, Harmony, Vivid, Venus
Terra Nova - broken up at Green Pond, Newfoundland
Extravaganza - Sir Percy Florence Shelley of Boscombe lodge 12th April 1856 No. of tons 28 sail
Parts Of The Ship

Rudder, Keel, Hull, Bulkhead
Hatch, Main Deck, Fore Castle
Fore Castle Deck, Main Mast
Fore Mast, Quarter Deck
Shrouds, Captain's Cabin
Main Boom, Fore Boom
Main Sail, Gaff
Fore Sail, Fore Stay Sail
Jib, Flying Jib
Bowspit
Main Topsail
Fore Topsail
Main Topmast, Fore Topmast
Yard
Types of Ship
Sloop - a type of boat
Ketch, Brigantine, Caravel, Carrack, Galley, Barque, Galleon, Frigate, Man of War, Ship of the Line, Queen Anne's Revenge
Places to Go
Come to Poole to carry on your History and Heritage Hunting
Poole Museum | Poole History Centre | RNLI College | RNLI Old Lifeboat Station
Scaplen's Court is a Grade I listed medieval building that dates back to the 1300s. You may have visited it with your school as part of the Poole Museum Education Centre? It is open to the public in August and has a lovely walled garden. It was designed by George Dillistone in 1930 and was restored by volunteers in 2000 as a 'herb and physic' garden.
Download this PDF of the Trail to do when you visit Poole - don't forget your clipboard to lean on!
Granny Cousins' Ghost Walks of Old Town Poole
Local Victorian character Granny Cousins and her sidekick 'Red' will take you on an entertaining and informative evening walk telling you about some of the people that have lived, worked and....haunted this ancient fishing port. An entertaining and informative way for ages to find out more about Old Town Poole.
We have worked with many different people and organisations to make CARGO and bring it into land at the Great Quay of Poole. We would like to thanks:
The Heritage Lottery Fund, Borough of Poole Culture Fund, Bournemouth and Poole Cultural Hub, Poole Museum, Poole Family History Centre, Dorset History Centre, Falmouth Maritime Museum, Canford Heath Junior School, Haymoor Junior School, St. Clements and Bethany School, The Cirdan Trust, Activate Performaing Arts Agency, Lighthouse Centre for the Arts Poole, Momotempo, Poole Maritime Festival, Poole Harbour Commissioners, Arts University Bournemouth, Bournemouth University Marine Archaeology Department, Poole Harbour Heritage Project, Het Scheepvaart Museum Amsterdam,
Please keep visiting this page.
We are adding more information as the project grows and develops.